Hi Ladies,
Have you dreamed of having your wedding dress personally designed by an award winning bridal designer?
The soft feel of the finest fabrics. The beautiful laces.
Dazzling swarovski crystals.
The cut of the dress to fit perfectly to your body.
The attention to detail
I have been designing beautiful wedding gowns since 2000 and I am recognised in the Wedding Industry as an expert in Bridal Design.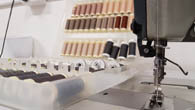 My fun, relaxed personality puts all my clients at ease and makes the experience of having your wedding gown designed into a memorable event. It is an opportunity to have an idea in your head turned into the gown of your dreams. At each fitting you will not only see your dress come alive but to also smile, laugh and even cry with happiness.
Bring photos and ideas of what you like to your free consultation. I will sketch you a design and show you fabrics so you can see my inspiration for your gown. Once you are in love with the creation of  your dress we then start making the pattern.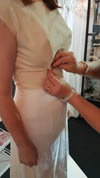 The fittings come next where we start with a toile which is a version of your dress usually made with calico. This is where you see what the dress will look like on your body and where you can make changes to what you like.
Every Stitch - Every Seam -
Every Attention to Detail is done
with Love and Dedication to Deliver
you the Dress of your Dreams
Once you are happy with the design and the fit we then start cutting out your dress with your selected fabrics. We book you in for more amazing fittings as the dress gets closer and closer to being completed.
If you like the idea of having a couture dress designed for you then please give us a call and we will book you in to see me where  I can give you a no obligation quote for your dream wedding gown.
Let your journey begin...